Gdansk fairs
The two major fair events in Gdansk are St Dominic's Fair and Christmas Fair. Each of them has a unique character and both are worth visiting.
Christmas Fair
Christmas Fair starts at the beginning of December  and ends on the 23rd. It boasts a multitude of attractions. Strolling around specially illuminated stalls you can buy handmade Christmas decorations, drink hot wine or get unique presents for your friends and family. You can also buy original handmade products, such as leather bags or gloves, herbal and fruit soaps and liqueurs. From 2016 the event is enriched by the Art Fair where you can purchase art works and designs directly from the artists.
 Christmas Fair is not as big as St Dominic's Fair. There are usually about 100 stalls, and they are located in a picturesque surrounding of the Coal Market, right next to the Golden Gate, Kings Route and the main street of the old town – Dluga.
 During the Christmas Fair you can enjoy free rides on a retro carousel or try skating to the melody of classical Christmas carols. The most important cultural event at this time is an excellent Actus Humanus festival that attracts the world's most famous performers of Baroque and Renaissance music. The concerts are held in historic interiors of Gdansk churches and are a great experience for all music lovers.
 Gdansk Christmas Fair provides a wonderful opportunity to relax with friends and get beautiful Christmas decorations.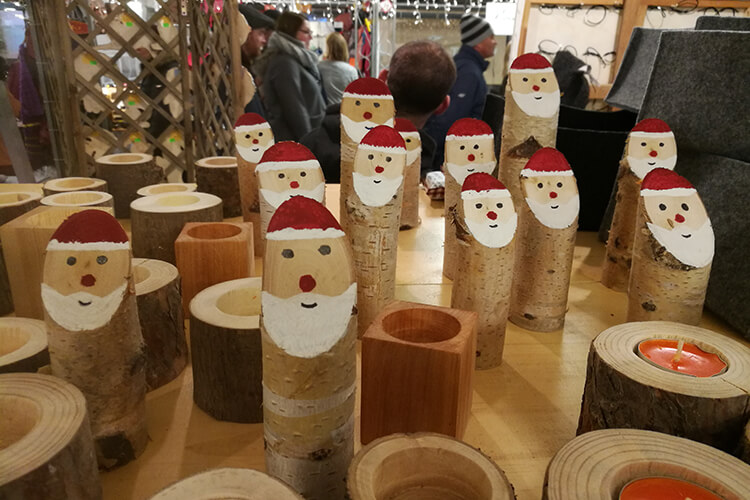 St Dominic Fair
It is one of the largest and oldest fairs in Europe with more than 750 years of history. It lasts for 3 weeks, from the end of July till about the 20th of August. The fair is located in the streets of the old town, open to visitors from early morning till night.
 During St. Dominic's Fair you can stroll around among over 1000 stalls of crafts, ceramics, jewelry, antiques and even old vinyls and comic books. You can taste a great variety of regional delicacies from Poland, Lithuania, Hungary and other European countries. Every year you can meet great number of local producers of cheeses and wines. It is one of a very few places in the world where you can taste the wines from Poland.
 The fair attractions include also a rich program of  cultural events as: The Gdansk Shakespeare Festival, organ recitals in historical churches and pop concerts. The selection is so large that it is simply not possible to participate in all cultural events organized during the fair. In addition, during weekends, you can watch spectacular shows of fireworks.
 St Dominic's Fair is without doubt a major attraction for collectors and people who love boisterous atmosphere. If you like tasting regional food products, feel free to join us.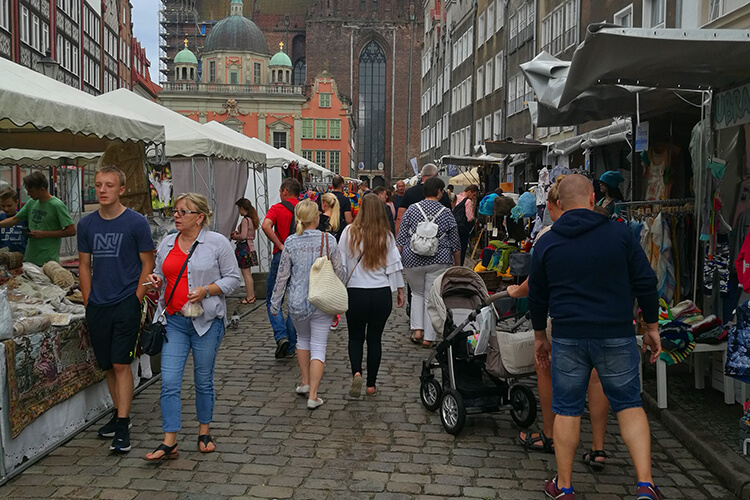 Why visit Gdansk?
For over 250 years Gdansk was one of the most important Hanseatic cities. In the golden age of its prosperity Gdansk was a flourishing centre of international grain and timber trade. Plenty of monuments still prove the city's wealth, including Gothic churches with St. Mary's Church, the beautiful houses of the Gdansk elite, the harbor, the crane, the Fountain of Neptune and many others. Between the 1400 and 1600s Gdansk was also Poland's largest city.
 St. Mary's church is built of about 5 million bricks. It is the largest brick church in the world and its grandeur outshined other St. Mary's temples in the Hanseatic cities. The Gothic building houses the largest astronomical clock from 1470, gothic altars and other valuable monuments.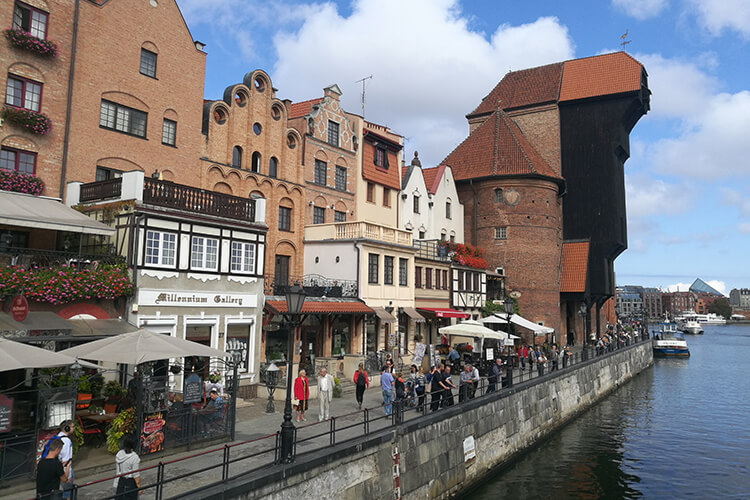 Gdańsk – multicultural heritage
Germans, Dutchmen, Scotts, Englishmen, Swedes and several other nationalities had been settling in Gdansk for centuries. The impact of Dutch architectural tradition is strongly visible in buildings and facades of the old town.
 It was in Gdansk – the Westerplatte peninsula- where the World War II began on September the 1st  1939. As a result of the conflict, in 1945 the historical centre of Gdansk had been almost completely destroyed. After the war the Polish architects initiated a unique project of rebuilding the city from the ruins. Now the old town of Gdansk impresses again with its beauty.
Solidarity was born  in Gdansk.
In 1980 Lech Walesa, together with shipyard workers from the Lenin shipyard in Gdansk launched the strike which soon transformed into wave of political protests throughout the whole Poland. It succeeded and the workers achieved their goal – Solidarity trade union was legalized. The movement was based on non-violent resistance. Thanks to that, the democratization process in Poland was carried out without military clashes and bloodshed. Today it is possible to find out more about Solidarity history and about Polish society's victory over communism in the European Solidarity Center. It is located on the site of the former Lenin Shipyard, next to the Fallen Shipyard Workers monument.
Visit Gdansk
 Gdansk is a perfect destination for a family holiday or a weekend with friends. A study trip or a company tour to Gdansk is also a great idea. The city is worth visiting for a shopping trip or a visit to spa, and… there are so many other things to do! You can find several kilometers of beautiful sandy beaches within the city area. You can enjoy great food in Gdansk pubs and restaurants. In summer you can visit St Dominic's Fair and Christmas Fair in the winter. It is also worth getting to know the area around Gdansk: Sopot, Gdynia, the Polish Netherlands in Żuławy lowlands and discover the uniqueness of local ethnic minority of Kashubians. Gdansk is a great place for cyclists. And most importantly, Gdansk is so much closer to you than you think.